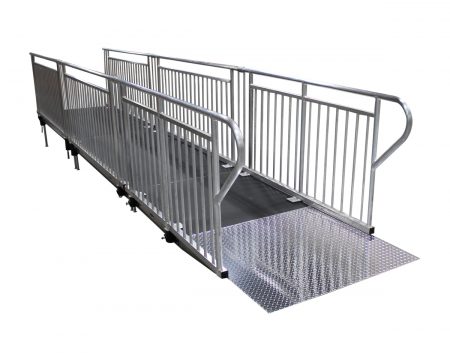 Staging Dimensions offers a variety of ADA and equipment ramps for indoor or outdoor applications in portable or permanent installations. A*Com Handicap Ramps meet ADA requirements of 1 foot in length for every inch in height and also comply with ANSI, BOCA, IBC, SBCCI, CABO and Florida SREF. Rest landings are required every 24 feet and all handrail is designed with 42″ high guardrail and 36″ high handrails.
---
Portable & Permanent ADA / Handicap Ramps:
ADA / Handicap ramps are available in straight run, "L",  "U" & "S" shaped configurations to accommodate any installation location. Bi-directional knurled tread, non-skid quad ripple or diamond plate surfaces are available and ramps can be custom designed to meet your exact specifications.
---
Diamond Plate Starter Ramps:
Diamond plate starter ramps are available in 4′ & 8′ lengths and 1′, 2′, 3′ & 4′ depths to accommodate equipment and ADA access ramp needs. These ramps can be used in conjunction with our standard stage decks to create ADA access and equipment loading ramps. They can also be used to create a smooth transition from stage to floor when the decks are in use as a dance floor.
---
Transition Wedges:
Transition wedges are used where wheel chair ramps meet a level surface and are available in 4', 5', 6', 7' or 8' lengths. They are constructed using our quad ripple surface and aluminum frame. These wedges are offered in up and down versions to accommodate inclines or declines on wheel chair ramps and lock to standard decks using our dual lock system.
---
About Us:
Staging Dimensions began manufacturing permanent and portable staging and accessories in Newport News, Virginia in 2001. As a sister company to Applied Electronics, Staging Dimensions was created as a convenient means to offer their customers quality, versatile portable staging products to package with their roof systems. The business quickly grew and relocated to their current site in New Castle, Delaware, in 2003.
Currently, Staging Dimensions is finding its niche in the custom market while maintaining its strong presence in the standard portable staging arena. Our in-house capabilities allow us a quick turnaround time and enable us to provide superior attention to our customers' every need.
For more information about Portable or Permanent ADA Ramps, call (866) 591-3471.