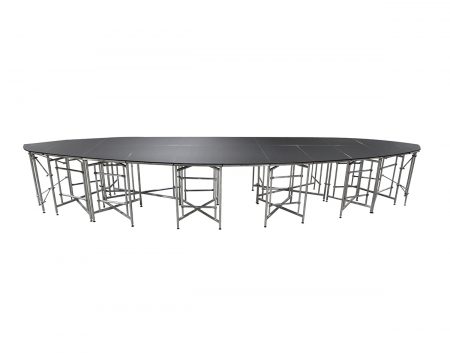 Orchestra Pit Fillers and stage extensions can be custom designed and built to exact specifications. Our manufacturing process utilizes CAD drawings and CNC routing technology to provide the highest quality staging products possible. Pit fillers and stage extensions can be built at a variety of fixed or adjustable heights to offer our customers unlimited utilization for their stage products. In addition to our standard surface options we offer custom surfaces, sound absorptive material and fire-retardant options. Staging Dimensions will provide specification and engineering documentation, field measurement surveys as well as on-site training on installation and removal to ensure that your custom pit filler or stage extension is the perfect fit.
---
About Us:
Staging Dimensions began manufacturing permanent and portable staging and accessories in Newport News, Virginia in 2001. As a sister company to Applied Electronics, Staging Dimensions was created as a convenient means to offer their customers quality, versatile portable staging products to package with their roof systems. The business quickly grew and relocated to their current site in New Castle, Delaware, in 2003.
Currently, Staging Dimensions is finding its niche in the custom market while maintaining its strong presence in the standard portable staging arena. Our in-house capabilities allow us a quick turnaround time and enable us to provide superior attention to our customers' every need.
For more information about Orchestra Pit Fillers or Stage Extensions, call (866) 591-3471.