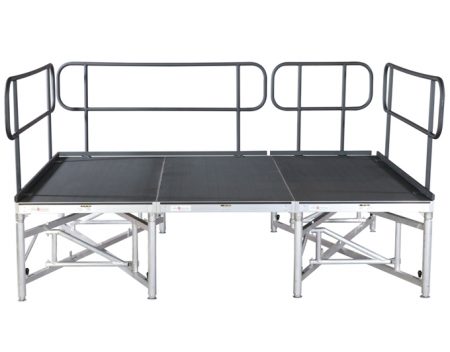 Staging Dimensions offers superior portable staging systems and products for all your staging needs. Our portable staging is a convenient option for schools, churches, theaters, arenas, venues and more.
With a certified live load rating of 200lbs per square foot and a deck frame constructed from 6005-T5 4-sided extruded aluminum tube, we manufacture one of the strongest single sided portable stage decks on the market.
---
Staging Systems:
Our portable stage decks can be used as main stages, rolling risers, multiple height choral risers, ADA ramps, orchestra pit fillers, camera risers, spot towers, sound wings or stage extensions. They can also be easily reconfigured to provide our customers with versatile staging systems that allow them to re-use components to create multiple portable stage configurations.
---
Portable Stage Decks:
We offer four standard, interchangeable support systems for our portable stage decks which include: fixed height legs, adjustable height legs, rolling legs and Wunderstructure bridging support systems. Custom support system designs including scaff, I-beams and truss are also available. All portable stage decks come standard with 3/4″ hook Velcro on all sides of the deck, positioned in a recessed aluminum channel designed to protect the Velcro.
---
Custom Staging:
In addition to our standard stage systems, Staging Dimensions offers a wide variety of custom staging & scenic fabrication. CNC laser technology allows us to provide our customers with custom stage decks and scenic display pieces for any application. The ability to provide precision cuts, curves and inlays on our interlocking portable staging decks allows our customers endless design possibilities.
---
About Us:
Staging Dimensions began manufacturing permanent and portable staging and accessories in Newport News, Virginia in 2001. As a sister company to Applied Electronics, Staging Dimensions was created as a convenient means to offer their customers quality, versatile portable staging products to package with their roof systems. The business quickly grew and relocated to their current site in New Castle, Delaware, in 2003.
Currently, Staging Dimensions is finding its niche in the custom market while maintaining its strong presence in the standard portable staging arena. Our in-house capabilities allow us a quick turnaround time and enable us to provide superior attention to our customers' every need.
For more information about Portable Staging Systems, call (866) 591-3471.