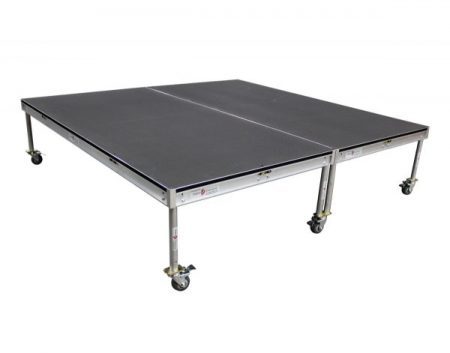 Rolling Riser Legs are sold as single, double or quad units & can accommodate heights ranging from 10″ – 24″ high. Rolling legs are constructed from schedule 40 1 1/4″ aluminum pipe (sleeves), 1/4" A656 grade 80 high tensile strength steel plate, 1 3/8" diameter steel tube spigots & 4″ total lock casters.
Each rolling riser leg consists of a caster(s) with a nipple and different length leg pipe that is sleeved over the nipple to create the desired height. Singles (consisting of one pipe and one caster) are placed on the outside corners of the stage. Doubles (consisting of two pipes and one caster) are used where two decks join together. And, Quads (consisting of four pipes and three casters) are used where four decks join together. Quad Rolling Legs eliminate caster interference & are a great option for multi-tier rolling riser configurations.
While rolling riser legs are not adjustable, kits are available and provide leg pipe in heights from 10″ – 24″ high to accommodate a variety of needs. For risers over 24″ high we recommend the use of our rolling Wunderstructures to provide adequate support. 4" or 6" casters can be mounted on the underside of the stage decks to provide low profile rolling stages.
---
About Us:
Staging Dimensions began manufacturing permanent and portable staging and accessories in Newport News, Virginia in 2001. As a sister company to Applied Electronics, Staging Dimensions was created as a convenient means to offer their customers quality, versatile portable staging products to package with their roof systems. The business quickly grew and relocated to their current site in New Castle, Delaware, in 2003.
Staging Dimensions is finding its niche in the custom market while maintaining its strong presence in the standard portable staging arena. Our in-house capabilities allow us a quick turnaround time and enable us to provide superior attention to our customers' every need.
For more information about Rolling Risers, call (866) 591-3471.